Ad Blocker Detected
Our website is made possible by displaying online advertisements to our visitors. Please consider supporting us by disabling your ad blocker.
Malabar Mixed Vegetable Kurma.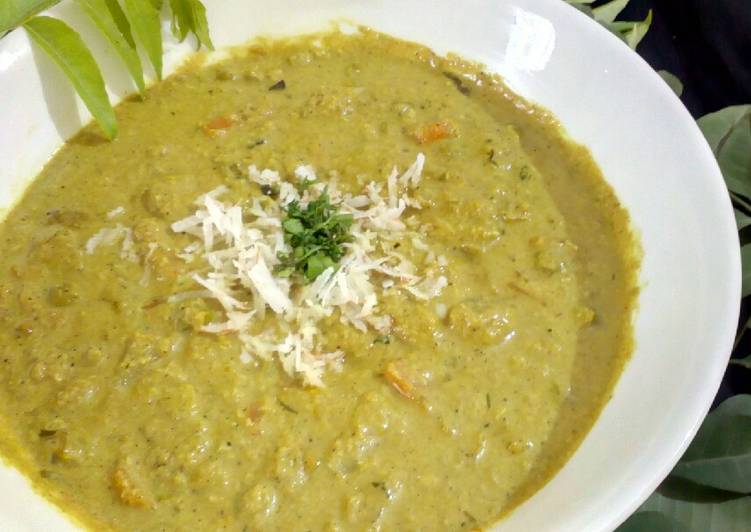 You can cook Malabar Mixed Vegetable Kurma using 18 ingredients and 14 steps. Here is how you achieve it.
Ingredients of Malabar Mixed Vegetable Kurma
Prepare 1/2 of Coconut.
It's 2 of Potato.
Prepare 1 of Carrot.
Prepare 3 of Chopped green chillies.
It's 1 tsp of Ginger-garlic paste.
It's 1/2 tsp of Turmeric powder.
Prepare 1.5 tsp of Coriander powder.
You need 1/2 tsp of Garam masala.
It's 1/2 tsp of Black Pepper powder.
Prepare 2-3 of Clove.
It's 1 piece of Cinnamon.
Prepare 1 of Black cardamom.
It's 1/2 tsp of Fennel.
Prepare 1 tsp of Chopped coriander.
It's 6-7 of Curry leaves.
You need 8-10 of Cashew nuts.
You need 1/2 cup of Thick coconut milk.
You need 1/2 cup of Coconut grated.
Malabar Mixed Vegetable Kurma step by step
Break Coconut…take half..wash and cut half in thin pieces.
Grate rest half coconut.
Add coconut pieces in a mixture jar add required water and grind well.
Soaked cashew and fennel in warm water and keep aside.
Sieve in a bowl.. squeeze with fingers…Think coconut milk is here.
Cut potato and carrot in small pieces add frozen green peas.
Take soaked cashew, fennel in a jar grind with grated coconut..make a paste… shift in a small bowl.
Heat oil add whole masala and fry for 30 seconds…add chopped onion and chopped green chilli.
Cook for 3-4 minutes add ginger-garlic paste…cook till light golden brown..add some water and stir.
Add vegetables…mix in masala.
Add coconut milk..stir…add 1 cup water.
Add 6-7 baby curry leaves.. stir.
Cover and cook till vegetables tender… on medium low flame add cashew paste…mix…
Cook for another 2-3 minutes on low flame… Malabar Vegetable Kurma is ready.